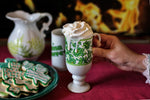 With the temperature staying decidedly on the cool side, you may find yourself reaching for something warm to sip on, or to bring feeling back to your fingers. And what could be more warming than an alcoholic coffee? Here's our round-up of hot coffee cocktail recipes, from the latest fad to the original: how to make a classic liqueur coffee.
What is liqueur coffee and how do I make it?
What many of us have come to know as a traditional liqueur coffee is in fact none other than an Irish coffee by another name. We have Pan Am airways, a boat plane, and a particularly stormy night to thank for our go-to hot beverage of a winter's evening.
The story goes…
It was a dark and stormy night in 1943 when Foynes airport in County Limerick learned that a Pan Am flying boat was en route. Destined for New York, the aircraft had to turn back, and would be landing there.  Famed chef and bartender Joe Sheridan was asked to return to the airport to provide hot drinks and food for the freezing passengers. He added a nip of Irish whiskey to a round of coffees, and topped it with whipped cream to up the comfort level for the weather-battered travellers. When one of them asked if it was Brazilian coffee, Sheridan quipped 'no, it's Irish coffee', and thus a classic was born.
Ever since then, the names Irish coffee and liqueur coffee have been used interchangeably for any (hot) coffee with alcohol added to it (if you're after the ice-cold delicious variation that is the Espresso Martini, you can find our recipe here).
But Irish coffee can be so much more than a glug of Irish cream added to a regular cup of coffee! There is a traditional recipe with set ingredients, which we will explore below, before looking at all the wonderful variations we have come across in our pursuit of the perfect Irish coffee. 
How to make a classic liqueur coffee (Irish coffee)
You will need:
A cup of freshly brewed hot coffee (for a stronger, fuller taste, opt for espresso-based americanos, although other brewing methods will work too)

1 tsp sugar (brown is best for this)

Double cream or spiked whipped cream

50ml Irish whiskey

Optional: nutmeg as a topping
How to:
Lightly whip the cream so that it is stiff enough to hold a shape on top of the coffee.

Pour the coffee into a glass and stir in the sugar until dissolved. Try not to skip this step, as it is the sugar that makes the drink more viscous, allowing the cream to float on top.

Add the whiskey to the coffee.

Using the back of a spoon, slowly float the cream on top of the coffee.

Optional: sprinkle a dusting of nutmeg on top

Pro tip: don't stir! Like Ireland's other famous liquid export, an Irish coffee is supposed to be drunk with the head in place, with the coffee filtering through the cream. 
Variations in Irish coffee
As with any classic recipe, different distilleries and areas have tried to add their stamp of creativity and local character, leading to a range of regional variations. Here are some of our favourites:
Anatolia Café
The Anatolia coffee is a rich, cherry and cinnamon-spiked treat, wonderfully decadent and definitely has to be tried at least once.
You will need:
250ml freshly brewed coffee

1 shot cognac

1 shot cherry liqueur

¼ shot cinnamon syrup

Whipped cream

Optional: cinnamon dust to serve
How to:
Combine the syrup, cognac and liqueur in a warmed cup.

Add in the coffee and stir.

Top with whipped cream and optional cinnamon powder.
Gaelic coffee (or highlander)
Similar to the Irish coffee recipe, but made with Scotch or Scottish whisky in place of the Irish whiskey. The taste of this will be slightly more peaty, so factor that in when choosing your coffee.
Jamaican coffee
A truly special drink, Jamaican liqueur coffee can be made with any Caribbean rum, especially if you are a fan of coconut varieties. The spices used make this a warming tropical treat that's sure to warm you up on even the coldest of days. 
You will need:
250ml freshly brewed coffee

2 shots dark rum

Cinnamon syrup (or Velvet Falernum)

Jamaican cream (*see below)

Optional chocolate shavings to garnish
* Jamaican cream: heavy cream with angostura bitters, demerara sugar and a dash of rum, whipped into a thick consistency.
How to:
Combine the coffee, syrup and rum in a warmed cup.

Top with Jamaican cream.

Garnish with chocolate shavings or almonds if desired (or a coffee bean!)
Regional variations
There are also variations that don't require whole recipes of their own - simply swap out the Irish whiskey for a different spirit or liqueur to try these regional takes on an Irish coffee:
French coffee: made with brandy

Italian coffee: made with amaretto

Spanish coffee: made with Tia Maria

Bavarian Coffee: made with peppermint schnapps
Hot coffee cocktail recipes
There are so many more ways to add alcohol to your favourite coffee blends and brews than just the traditional Irish coffee. Here's a few of our favourites:
Hot white Russian
Release your inner dude with this hot version of the cult classic white Russian cocktail. 
You will need:
250 ml strong freshly brewed coffee

½ shot vodka (plain or vanilla flavoured, if you're feeling fancy)

1 shot Kahlua

Double or heavy cream to taste
How to:
Place all of the ingredients except half of the cream in a saucepan, and warm until it starts to boil. Avoid boiling it as much as possible, as this could burn the dairy and alter the taste of the alcohol.

Whip the remaining cream in a bowl until it forms soft peaks.

Pour the mixture into warmed cups and top with the cream to make alcoholic-looking fancy lattes.
Coffee hot toddy
Yes, we know that a hot toddy is traditionally made with tea, but we love finding new ways to enjoy our daily cup of joe. This recipe is fantastic for those who aren't big on the milk or cream-based liqueur coffees - plus if you swap out the honey for simple syrup, it's also vegan! 
To make this you will need:
250ml freshly brewed coffee

2 shots whiskey

1 tablespoon honey

2 shots of fresh orange juice

⅛  tsp cinnamon

⅛ tsp cayenne pepper
How to:
Add all the ingredients into a mug and stir. Take care: these can be too soothingly addictive!
Festive liqueur coffee recipes:
No hot coffee cocktail recipe list would be complete without considering the options on offer over the festive period, when drinks hailing from America truly come into their own. Think of Starbucks sweet lattes, but made for grown-ups with lashings of booze!
Festive gingerbread
Perfect for Christmas morning or to aid festive gift shopping (we all know how stressful that can be!) Or for simply recreating the magic that is the festive season, with its I'll-eat-what-I-like attitude. 
You will need:
250ml freshly brewed coffee

1 ½ shot spiced rum (or buttered rum if you want extra comfort)

¾ shot gingerbread syrup (or ginger liqueur)

1 shot single cream

Optional ginger biscuit to serve
How to:
Place the coffee in a warmed cup. Pour in the alcohol and syrup and stir.
Drizzle in the single cream while stirring, and serve with a ginger biscuit.
Mint liqueur mocha
You will need:
¼ shot peppermint syrup or ½ shot crème de menthe

Hot chocolate (or one of our

hot chocolate sticks

!)

1 espresso shot

½ shot - 1 shot bourbon whiskey

Double cream

Optional: candy cane to serve
How to:
Mix the syrup or creme de menthe into the hot chocolate until it is thoroughly mixed.

Whisk the double cream until it forms peaks. Add a dash of bourbon if you want extra flavour.

Pour the whiskey and coffee into the hot chocolate and top with the whipped cream. Serve with a candy cane hanging over the side, or tiny splinters of it as a sprinkle on top.
Final thoughts
While we may no longer use Irish coffee as a post-flight tipple, it makes a fantastic indulgent treat when the weather calls for it, or as an end-of-meal alternative to dessert. If you're entertaining, why not splurge on a special coffee variation such as those from our exclusive trio range, like the
Jamaican Blue Mountain
, famed as one of the best-tasting coffees in the world?