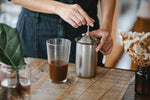 Cold brew coffee has gained popularity over recent years as a new and innovative way to drink one of the country's favourite drinks. Cold brewing coffee maximises flavour and aroma while eliminating bitterness.
Can you taste the chocolate? The fruit, acidity and body of your coffee? Whether you're a coffee connoisseur or a novice, cold brew coffee is a great way to transform your palate and get pure, clean, fresh flavour out of your coffee beans. Cold brew coffee stores in the fridge for up to a week and is a perfect sharpener for any occasion - and most especially in Espresso Martinis. 
Which coffee to choose?
If you choose the right coffee, you're 90% there. Your coffee is your top priority when favouring cold brew. When you buy freshly roasted coffee beans from Coffee Bean Shop, we advertise cupping notes or cup characteristics by region, coffee type and roasting process. What flavour do you want in your cold brew? We would recommend starting with a Peruvian or Colombian for maximised sweetness and flavour. 
You need 100% Arabica coffee beans and not Robusta as this will massively jeopardise your cold brew giving you an unpleasantly bitter and burnt taste. All our single origins are 100% Arabica and perfect for the job. We also medium roasted all our Arabica coffee which further adds to the layers of flavour produced in the cold brewing process. 
For all the decaffeinated drinkers out there, Swiss Water decaffeinated coffee is essential. The process is chemical free and simply the best as it doesn't take out the flavour like other inferior processes, meaning that you can have all the flavour of a single origin coffee with 99.9% of the caffeine carefully extracted.
Top tip, beans are best. Grinding your own beans will help with the flavouring, as coffee loses over 60% of the aroma in the first 15 minutes, you want to get coffee ground and steeped into your water (preferably filtered – helps with consistency) as soon as possible. 
Easy ways to flavour your perfect cold brew coffee or concentrate 
There are two options when cold brewing, a ready to drink or a concentrate (methods below) Ready to drink cold brew needs little to no added sweetness but a concentrate will need something to cut through the strength, ideally a simple or flavoured syrup. 
Milk or milk alternatives can add some extra body and substance to your cold brew or concentrate to give you an added finesse of flavour when drinking cold brew coffee. Although we would always recommend drinking ready to drink cold brew straight with ice. 
Freshly roasted coffee beans | Let it do its thing
Coffee is naturally flavoured, so make sure you pick well. Single origins will give you a sense of tractability when developing your own cold brew recipes. I would recommend South American or African coffees when cold brewing. These tend to bring flavours of chocolate, caramel, fruit and nuts. If choosing a coffee blend be sure there is no Robusta, our Breakfast Blend is a top contender when it comes to cold brewing. 
Syrup
If you've got a sweet tooth, syrup is an ideal way to add flavour to cold brew. Unlike conventional coffee, ready to drink cold brew is subtle and needs only a quarter of the syrup needed for a Latte or cappuccino. Cold brew concentrate may need sweetening like your regular hot brewed coffee.
Vanilla Syrup is an easy way to get an even more intense flavour profile for your cold brew coffee. Simple syrup with a ration of 2:1 is neutral and adds to the sweetness of the original flavours. Lastly, caramel syrup will give you the sweetest hot chocolate like cold brew coffee. These syrups can all be bought in your local supermarket or made at home with these simple steps. 
All syrups start with the base, sugar and water. Simmering will create a lovely, sweet consistency, 5-10 minutes usually does the trick.  *Remember to be careful when melting sugar at home*.  To flavour simply add either a dollop of caramel or a vanilla pod to the water and sugar mix before simmering. 
Flavoured milk
Flavouring your milk or milk alternative is one of the easiest ways to add a flavoursome twist on your cold brew. Simply simmer your favourite milk or milk alternative in a saucepan with spices and flavourings. We would recommend whole spices such as cinnamon sticks, vanilla, star anise, cardamom pods. * I would stay away from powdered spices. *  Once your milk or milk alternative has absorbed the flavours simply sieve, froth and serve. 
A family recipe just for you – 'Espresso Martini' flavoured with cold brew
We all love an Espresso Martini, and this recipe is perfect for all occasions. A creamy coffee cocktail, ready to wow any guest or coffee lover. 
 *Best served with a chilled martini glass*
50ml cold brew concentrate 
50ml coffee liqueur 
25ml Vodka 
25ml Vanilla syrup 
Dash of cream or flavoured milk
Coffee beans to garnish
How to cold brew coffee
You will need: 
Brewing vessel 
Freshly roasted coffee 
Water 
Paper Filter, cheese cloth or kitchen towel.
Cold brew ready to drink recipe:
Add 80g of freshly roasted and coarse grounded coffee to your vessel, then pour 1 litre of water on top. Make sure when stirring to get all the coffee ground wet and submerged for maximum flavour. 
Pop the vessel into the fridge and let this sit for 8-12 hours. Timing is key, brewing in the evening or overnight is best, this enables you to taste the most crucial moments, 8, 10 & 12 hours till your cold brew is just right for you. 
Lastly you need to filter your cold brew coffee. The most popular methods include paper filters, a kitchen towel or cheese cloth. We would always recommend using a drip cone and paper filter. This sieves out all the unwanted coffee grinds from your finished drink, leaving the cold brew tasting cleaner and fresher. 
Coffee Concentrate recipe: 
This has the exact same method as ready to drink coffee, but the ratios are slightly different. Simply add 80g of coffee grounds to 500ml of water and leave this for up to 16 hours depending on how strong you would like it. 
Another top tip is to change minimal variables at one time when creating your perfect brew. Temperature, grind size, coffee and water type will all have a significant impact on your cold brew coffee, so remember they can be difficult to replicate. 
More information and coffees mentioned can be found at www.coffeebeanshop.co.uk - good luck with your cold brewing from Lizzie and the Bean Team!