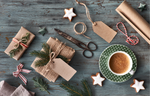 If they love coffee, then the best gift will always be more coffee - especially when it comes in a hamper full of carefully selected coffee related accoutrement! In this blog post we are going to share with you a list of coffee bean gifts that are perfect coffee hamper filling ideas, just in time for the present giving season.
Believe us: you're sure to be in anyone's good books if you give them these luxury coffee bean gifts!
What to put in a coffee hamper: The Coffee!
Once you've got your basket it is time for the main event: the coffee. 
When selecting beans, we always say to consider factors such as the origin, roast level, and flavour profile to find the one that best suits your taste preferences. Things get trickier, however, when buying for others. 
As it is for a gift you're going to want a nice selection of coffees, with varieties from different regions, with different characteristics. 
If you're not much of a coffee buff yourself, you can leave it down to us to do the research and opt for our 6 bags from around the world coffee bean selection.
Roaster's choice coffee beans
If you're keeping things simple, you cannot go wrong with the Coffee Bean Shop's 'Roaster's choice'. 
Chosen by our very own roasters, this hand-selected blend takes away the guesswork for budding gourmets, while still ensuring great tasting coffee. Freshly roasted in our traditional, family-run coffee roastery in rural Kent, Roaster's Choice is promptly bagged up and sent to you, ensuring it retains its rich flavour. What better way is there to explore new blends of coffee?
Luxury Single-Origin Coffee Beans
If the recipient means a lot to you (or they have just been very, very good this year) you could always treat them to those coffee beans that are a little outside the price range of everyday drink habits. 
First up is Hawaiian Kona, what is considered by some to be the finest coffee in the world. Rare and highly sought after, the coffee itself has a medium body, bright acidity and a sweet almost earth-like aftertaste. This unique, gourmet coffee is one that every coffee lover should taste once in their life and would make an excellent luxury coffee bean gift.
Next up we have the effervescent Jamaican Blue Mountain, which has been described as the champagne of the coffee world. It has a perfectly balanced, but full bodied flavour that is incredibly smooth, and is definitely one that will be appreciated by any coffee drinker anywhere.
What to put in a coffee hamper: the extras
There is so much more to coffee than choosing your variety of beans, so fill your caffeine themed hamper with items that add to the fun!
Brewing method
One of the most fun things about coffee drinking is the huge variety of ways it can be prepared. Add to their fun with a new brewing method, such as the super popular v60 cone or an aeropress: the absolute best way to have great tasting coffee on the go. Both will work with any type of coffee bean, but if you want them to be able to use them immediately, make sure that they either have a grinder, or that the coffee beans in your hamper are pre ground to the correct coarseness.
A burr grinder
Everybody knows that coffee tastes better when it is freshly ground - so why not give the gift of the perfect grind, every time? The Melitta Molini Burr grinder uses burr grinding instead of blades to achieve a professional level, uniform grind. 
It can be set to 17 different levels, meaning you'll have the correct amount and consistency for whichever type of coffee you prefer. It even comes with a container that holds up to 200g, making it ideal for entertaining guests.
Fancy weighing scales & tamper 
The success of a good cup of joe relies on what you put into it, and a big part of this is timings and measurements. The usefulness of a weighing scale and timer in a coffee obsessive's arsenal cannot be overstated, and when it looks as nice as these ones, there's really no reason not to.
While we're on the subject of luxury barista tools, we have to mention the most lusted-after item for anyone who owns an espresso machine: the glorious Motta Wooden Tamper. This seemingly mundane piece of equipment is considered the Cadillac of espresso-based coffee creation, and is regularly used in global coffee-making competitions. Crafted in Italy from the finest wood and steel and ergonomically balanced, the tamper conforms to the professional standard of most espresso machine baskets with a 58mm diameter.
Coffee liqueur
If they love a good coffee, there's little doubt that they'll love espresso martinis - and to make those you need a really good coffee liqueur. A blend of rum and the year's best coffee beans, the liqueur is exclusive to the Coffee Bean Shop - as is the personal espresso martini recipe we've shared on our product page.
Coffee Hamper Ideas: the finishing touches
As with any ardently followed hobby, coffee lovers adore anything that is even tangentially related to their past time. Why not add in an item that can remind them of their great love, even when they are away from their brewers and coffee cups? We've got a fantastic range of aprons and tote bags made from authentic hessian coffee sacks. Each one is hand made from the sacks we use in the roastery and display the branding and artwork of much loved coffee growers, varieties and names. 
A cup! Finish off their beautifully made, carefully crafted coffee hamper with a mug or cup that will suit them perfectly. A mug with your face on it, so that they always remember who they have to thank for such a thoughtful gift, perhaps?

Final thoughts
And remember, much like puppies, coffee hampers are not just for christmas! Edit out the festive themed goods and you can create a hamper which is perfect for birthdays, wedding or even work based presents. After all, coffee never goes out of style.
If this feels like a bit too much effort, or you are short on time, there's always the coffee subscription option. Seen as the gift that keeps on giving, The Coffee Bean Shop subscription comes in three different time bundles, from three to six months. We can even add a personalised message to their monthly bundle of 2 x 250g of the finest coffee, either as whole beans or ground to their brewing specifications.
Need something a little bit less pricey? We've got you covered for budget friendly coffee bean gifts: our coffee stockings! As well as looking amazing, they are made out of genuine coffee sacks, a must have for all coffee lovers out there, and contain a 250g bag of our very best coffee beans.
Whatever angle you go for; Coffee lovers will always appreciate a chance to taste new blends, try out new methods, or just generally extend their (probably already quite large) coffee bean collection. And really, isn't an absolutely fantastic morning cup of coffee the best gift anyone could possibly ask for?